Wide range of premium healthcare products
Wide range of premium healthcare products
STRIVING TO BUILD A BETTER AND HEALTHIER FUTURE
At New Country Healthcare we always focus on providing high-quality products to our customers. Our dedicated team brings the most innovative products to the region and focuses on educating customers thereby, setting new trends.
who we are
TOGETHER TOWARDS HEALTHIER SOCIETY
At New Country Healthcare we always focus on providing high-quality products to our customers. Our dedicated team brings the most innovative products to the region and focuses on educating customers thereby, setting new trends.
Our exceptional reach of international products that cater to all segments and multicultural preferences of products offered across nine diversified categories. Our innovative and proactive approach ensures that the quality is not compromised at any level, and accessibility to all is assured through robust distribution model.

message from the Chairman
Our main objective is to support our community's transition to a healthier community by bringing a wide range of healthy products from around the world to the UAE, making them more accessible for the general public. With our wide product range, highly skilled staff and exceptional customer care and service, NCH has become the leading healthcare distributor in the region.


___________________________________

Dr. Ghazi Al Koudsi
Chairman, New Country Healthcare
Sq. Ft. of Storage Facility
Together Towards A Healthier Society
At New Country Healthcare we always focus on providing high-quality products to our customers. Our dedicated team brings the most innovative products to the region and focuses on educating customers thereby, setting new trends.
NCH provides complete
solutions to empower yoU
Our brands are our soul and we take care of every little detail to help them flourish in the market. It is our priority to give our customers A-Z solutions from registration to sales
As pioneers and industry leaders in the world of Natural Health products, NOW International is always challenged in finding suitable partners who understand the need for clean labels, promoting natural products and can represent our mission well in countries across the globe. To say we have found such a partner in New Country Healthcare (NCH) would be an understatement.
We see in NCH a capable partner who have acted very professionally in elevating our much sought after NOW Brand in the UAE and throughout the Gulf region and have done so adhering to strict local regulatory compliance. We appreciate the personal relationship built over the years and for the transparency and strong friendships forged over time. We have no doubt that with our mutually successful collaboration will continue to enable us to soar to new heights and to reach new milestones.
MadeGood is a relative young company which started approximately 5 years ago.
Already right after the introduction internationally, we formed a partnership with New Country Healthcare to manage and distribute our brand in the UAE. The relationship since the start back in 2014 "fits us like a glove": New Country Healthcare combines an enormous passion with a high level of professionalism, which has proved for us the winning combination for the development in the Middle East.
Last year we extended our cooperation for NCH to also manage our brand in other countries within the region. The key to success in our experience since we started are the kind and warm personal relationships that we formed with the people involved at NCH, honestly in the way NCH conducts its business, knowledge and experience within the food business, clear communication and above all the team effort that goes into driving the MadeGood brand forward.
We are very happy to be part of the NCH Team and look forward extending our partnership in the years to come!
The partnership between New Country Healthcare and Chiesi dated back to 2004, and by now it has developed in one of the most successful collaborations for Chiesi International Division.
NCH strong capabilities in all business aspects, particularly in products' registrations and commercialization, allowed us to bring to the U.A.E. market, high added-value treatments for serious diseases such as asthma, COPD, respiratory distress syndrome and cystic fibrosis.
Chiesi has found in NCH an attentive, reliable and cooperative partner, always willing to agree on win-win solutions to seize the market opportunities and address the business challenges.
And for me personally, working with Dr. Nael, Dr. Emad and the whole NCH team, has been a real pleasure and a source of great inspiration.
New Country Healthcare has been the best partner we could have find to introduce our Products in the UAE. We were able to position our brands as the category leaders thanks to their dedication, market experience and effective logistical team Throughout the many years of working with New Country Healthcare's team, their way of conducting business has always been in the uttermost professional, ethical and transparent way, and today we are happy to call them our friends
The New Country Healthcare team have been extremely supportive and active in helping us grow our honibe brand in the UAE. The team has been professional in representing our products and we are sincerely grateful to be in association with the NCH team, who now feel like family. Our experience working with them has been outstanding, and we are encouraged to keep growing in UAE and elsewhere. We are excited to continue with the opportunities NCH presents us.
It has always been a big pleasure to work with your Team and be part of your Family. Nature's Way and me personally cannot be happier to have you as our trusted and highly reliable partner in U.A.E. and beyond. Good luck with all your future endeavours!
New Country Healthcare has been our partner for over 15 years. We are proud to work with such a driven team of very personable and professional people who always operate in a most efficient and timely manner. It is truly our great pleasure to work with NCH and call the NCH family our friends
Why work with new country healthcare
ISO & HACCP Certified
New Country Healthcare is one of the few distribution companies having ISO 9001:2015 and HACCP certification which gives us a more professional understanding of our key business areas according to international standards.
Awards & Recognition
NCH is consistent in its achievements and has been awarded numerous times by suppliers, clients, local governing bodies for its hard work and dedication to building a healthier society.
Towards a Better Society
NCH understands its corporate responsibilities and it regularly organizes and participates in many CSR Activities locally. NCH also supports multiple International NGOs such as VitaminAngels, AutismAlliance in collaboration with Neocell and Enzymedica.
Leading the competition
We strive to import the highest quality products from around the world. Our marketing team works tirelessly and professionally in creating brand awareness and equity through developing scientifically sound messages to healthcare professionals and consumers in addition to digital content to be shared on social media platforms
Awards and Recognitions
Our commitment to a healthier society has allowed us to progress and excel in the healthcare industry, winning us numerous awards from suppliers, local government bodies and international organizations.
New Country Healthcare has a vision to be the leading healthcare distributor in the UAE and GCC region. Our team strives to achieve and be the best with no compromise on quality or customer service. We strongly believe in building and nurturing our relationships with our clients as well as our employees. Our family work environment has allowed us to retain our employees for over 20 years.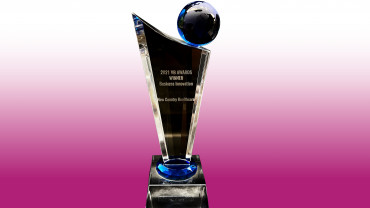 Business Innovation Award by Vitabiotics
Vitabiotics recognized the innovative spirit of NCH to constantly find solutions to face the challenges. Vitabiotics awarded NCH the "Business Innovation Award" in 2021."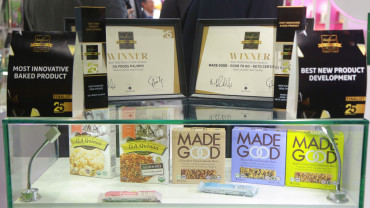 Gulf Foods Innovation Awards – Dubai, UAE
Award 1: Most Innovative Baked Product – GoodtoGo Bars Award 2: Best New Product Development – Palmini Pasta New Country Healthcare constantly strives to bring the best quality and…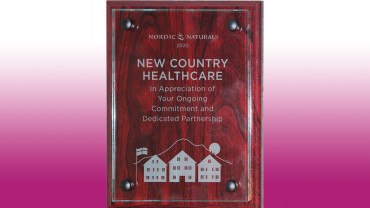 Distributor of the Year – Dubai, UAE
New Country Healthcare was awarded for their ongoing commitment and dedication towards their partnership with Nordic Naturals, a globally recognized nutraceutical company. "Once a commitment, always a commitment" a…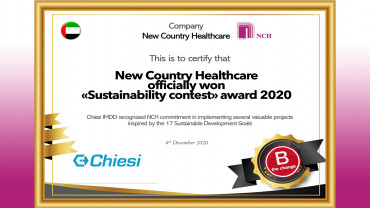 Sustainability Contest Award
Chiesi recognized New Country Healthcare for their sustainable initiative. The Chiesi Imdd team awarded New Country Healthcare the Sustainability Contest Award for their sustainable initiatives to improve the environment.…
Become a PArtner
Join our winning combination of excellent accessibility, network and superior distribution to make your brand visible and reachable throughout the United Arab Emirates.